The idea of not having to wake up every morning to a demanding nine to five job has always been attractive to me. I mean honestly, who would willingly want to work for someone else if they didn't absolutely have to?
For me, I knew not being in control of my time, my income, and ultimately my work, would slowly drain me. That's what led me to start looking for opportunities to make money online.
I knew there were tons of methods out there; however, I didn't quite know where to begin my search. I looked into opportunities such as freelancing, Amazon FBA, domain flipping, etc. All of these are legitimate ways to make money in their own right but they weren't what I was looking for.
The more I searched the more frustrated I became, nothing seemed to stick. That is until I found a cool little opportunity that quite frankly sounded too good to be true.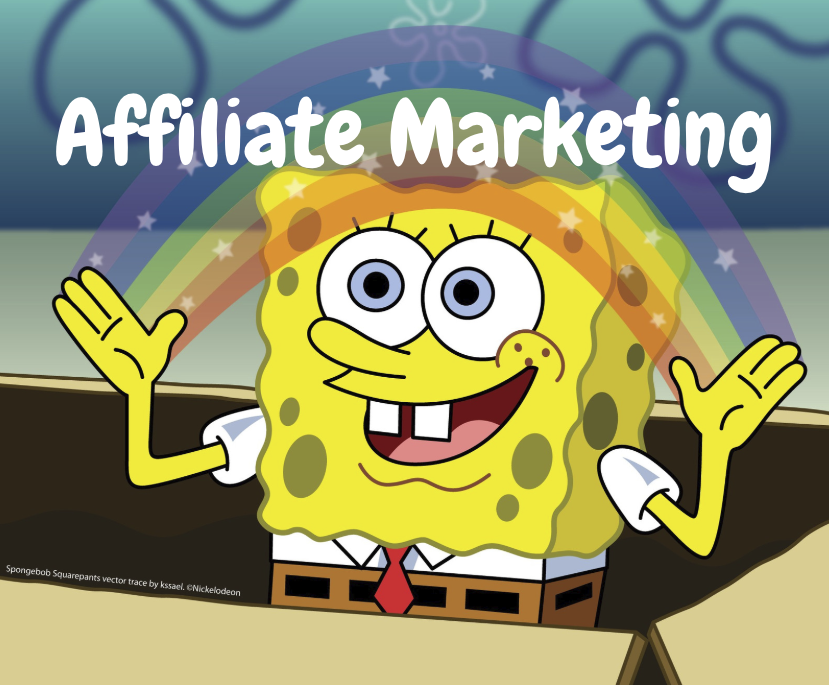 This opportunity is known as affiliate marketing and, out of all my searches, it's perhaps the best way to make money online.
Although I'm in the midst of my affiliate marketing journey, learning more about it day-by-day, I have seen how it has been life-changing for thousands of people.
In this post I want to introduce you to the world of affiliate marketing: showing you how it works, the potential it presents, and how you can make money online for free with affiliate marketing.
I'm doing this because I wish someone would have introduced me to affiliate marketing way earlier. Hopefully, by the end of this post, you will be inspired to start your own affiliate marketing business and take ahold of this opportunity.
How Does Affiliate Marketing Work?
To someone who has never heard of "affiliate marketing" before, it can sound like a complex business. My main concern when I started was whether I had the right education, experience, and skills to get started.
To be honest, though, affiliate marketing is relatively simple and no you don't need any prior education to begin.
So, what is affiliate marketing and how the heck does it work?
As the name might indicate, affiliate marketing is a type of performance-based marketing where you earn an income every time you promote someone else's products or services.
When potential customers purchase these said products or services, they're not charged extra. Instead, the company or business gives you, the affiliate, a commission from whatever the sale is.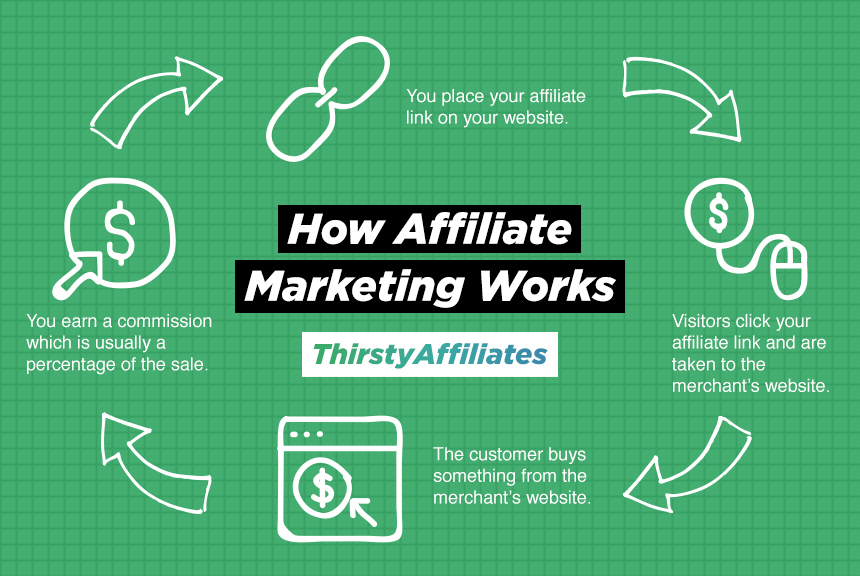 "It's that easy?" That's what I was thinking when I first heard about this opportunity. But, it really is that easy. As the person referring customers, you play a vital role in the sales process. You'll be surprised how generous businesses payout to those who send new clients and customers their way.
Depending on which companies and businesses you partner with, you can receive a percentage per sale or earn a commission on a recurring basis. Some affiliate programs even offer extra incentives depending on the number of new clients you bring.
The best example of this is ClickFunnels. This company generously offers its affiliates a 40% recurring commission for every customer they refer. With each ClickFunnels account being worth $97, I'm sure you can do the math.
On top of that, in the past Clickfunnels has been known to give its top affiliates, who reach 100 active referrals, the money to purchase their very own dream car. As crazy as that sounds, affiliate programs do this all too often and it's all because you referred someone to their new product or service.
The 3 Ways Affiliates Generate Income
There are actually 3 different ways to generate income as affiliates. Some may call them the different classes of affiliate marketing, but regardless each method has its own advantages and is often chosen based on preference:
• Pay Per Click (PPC)
PPC is the most popular type of affiliate marketing for affiliates with small websites and it is often considered the easiest way to make money. In PPC marketing, the merchant (business or company) pays the affiliate whenever a visitor is referred to their site, that is whenever someone clicks through the merchant's banner or text ads.
Even if the person doesn't make a purchase once they reach the merchant's website, the affiliate still gets paid a commission. Because this is much easier than getting someone to make a purchase, typical payouts for PPC are quite small, usually not exceeding a dollar for every click. Yet, gain enough clicks from customers and the money can quickly build up.
• Pay Per Sale (PPS)
Out of the three marketing types, Pay-per-sale affiliate marketing provides the best win-win scenario.
In pay-per-sale, the merchant pays the affiliate a certain fee whenever they refer a visitor, who makes a purchase, on the merchant's site. Affiliates are often paid on a commission basis, although other merchants might opt to pay a fixed fee.
As an affiliate, you can expect commissions much higher than what you'd make through PPC. Most affiliates generate 20% to 30% (sometimes even higher) of the purchase price. This starts to sound even better when the price ranges hit the three and four figures.
• Pay Per Lead (PPL)
Pay-per-lead affiliate marketing is simply a variation of PPS and is often used by insurance and finance companies and other companies who rely on leads for their business.
In this type of affiliate marketing, the affiliate is paid whenever they direct a customer to a business, where they fill out a form or application or sign up for an email list.
By customers taking the desired action, they prove they are interested in a business' service. This is extremely important in the eyes of the merchant and it reflects in the amount they pay their affiliates.
Compensation for this type of affiliate marketing is based on a fixed fee whose rates are similar to that of the fixed fee in the PPS type.
As you can see, affiliate marketing is a very lucrative business model, one that requires no physical inventory like your normal brick and mortar business. I can't think of many other businesses where you actually don't even need to sell anything to make money.
Affiliate Marketing: Best Practices
Affiliate marketing is often considered the wild wild west of online marketing due to its limited restrictions. With that, however, comes those who try to abuse it.
Unfortunately, affiliates are historically known to use less than honest methods, when promoting products and services.
However, I strongly discourage anyone from taking these approaches. If you truly want to make money or even a living from affiliate marketing, you should engage in the following good business practices:
Be honest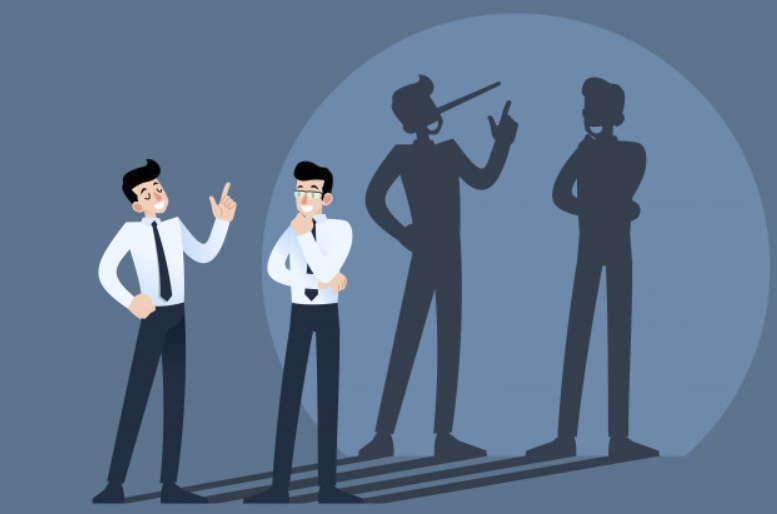 When choosing affiliate products to promote it can be tempting to pick those that will earn you the highest commission. This may work for a little bit but ultimately it will hurt you in the long run.
Don't simply promote products just to make a sale; instead, promote products you like and truly believe in. Customers are smart and can tell when someone isn't honest or genuine. And once they figure it out, it will be nearly impossible to gain back their trust.
Whatever products or services you advertise, make sure they are relevant and helpful to your audience. Affiliate marketing, at its core, is about helping people by providing products or services they will resonate with. Too many affiliates forget this and it's worth remembering if you wish to get into this business.
Don't Spam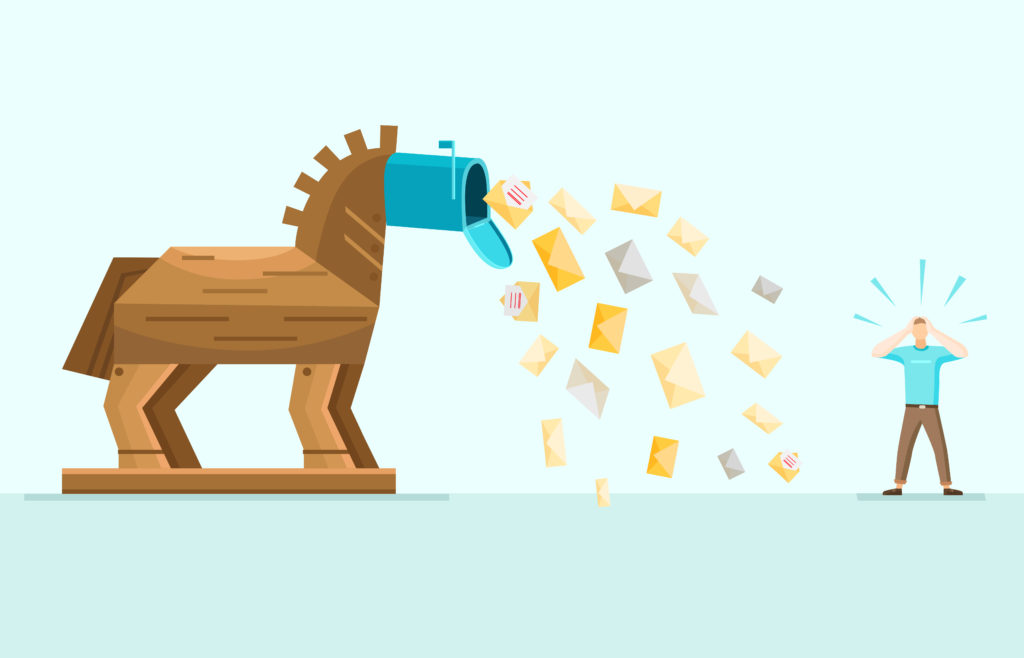 There are many ways to promote affiliate products, some of which I cover in another post. But, there is also the right way and the wrong way to go about it.
For example, if you've scrolled Facebook and seen someone post a link promoting some new "six-figures in six weeks" program then you know what I'm talking about. Affiliate marketers have been known for spamming their links across the internet, on social media, and through emails, in hopes of getting a sale. Not only is this bad practice, but it's also the most inefficient way of affiliate marketing.
If you want to get the most out of affiliate marketing you need a platform where you can reach an audience. This can be a blog, Youtube channel, podcast, heck, even a Facebook group. Anything is better than simply posting your links and praying for a sale.
Focus On Quality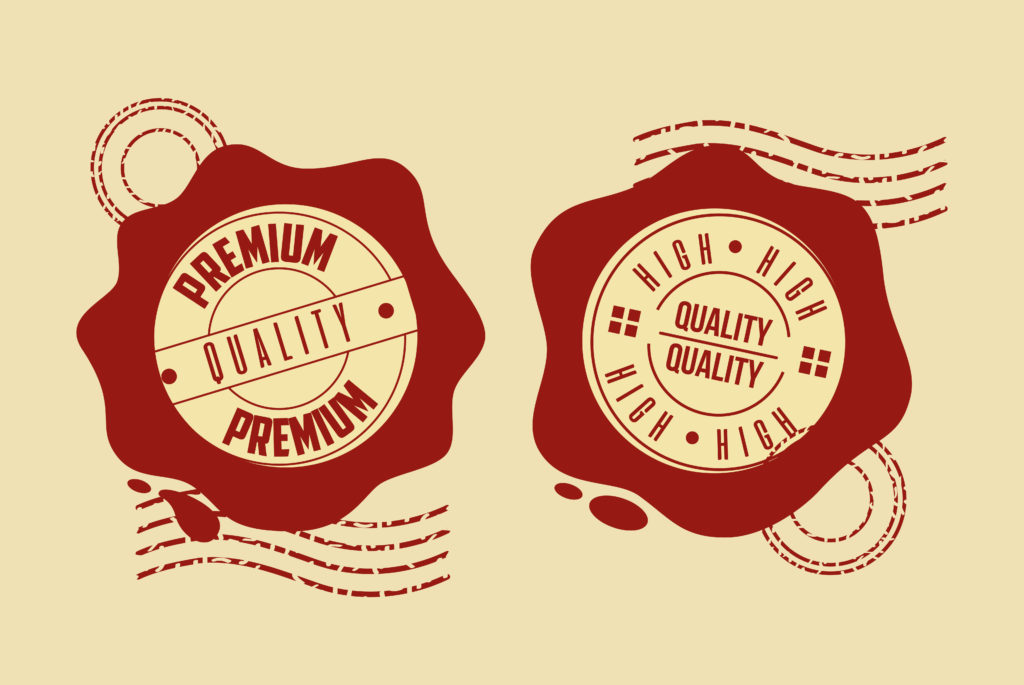 Those that are most successful in affiliate marketing all seem to share one thing in common, they focus on quality. They do this in all aspects of their business. If they have an affiliate website, they make sure that it looks professional and includes a compelling design.
If they run an affiliate blog, they make sure the content they produce is quality and insightful to their audience.
If it's Youtube or a podcast that they have, they ensure their video and podcast provide nothing but top quality information.
Focusing on quality will help you propel your affiliate marketing business to a whole new level. You'll find that visitors will view you as more professional and will essentially trust you and your recommendations much more, making it far easier to become successful as an affiliate marketer.
Bear in mind, these are only a few out of the multiple things you can do to enhance your affiliate marketing business. If you want more affiliate marketing best practices, you can read my post where I go into the top mistakes to avoid as an affiliate marketer.
Still, sounds too good to be true?
You are probably still waiting for the other shoe to drop. What's the catch, right? There honestly is no catch, affiliate marketing can be easy but…(uh oh there it is) it isn't going to make you rich overnight.
You see, most people who start affiliate marketing do so under the assumption they will get rich quick. I hate to burst any bubbles but there is no such thing in affiliate marketing, or in any business for that matter. Anyone who tries to tell you differently is lying to you, unfortunately.
Successful affiliate marketers make money online because they put in the time to learn the business and are incredibly patient in the process. If that's something you're not capable of doing then perhaps this isn't the business model for you.
How To make money online for free with Affiliate Marketing?
Okay, now that realistic expectations have been set, I'll tell you how you can make money online for free with affiliate marketing.
A quick disclaimer though, this will require you to have a website at the very least. I know for some people the idea of creating a website is scary but trust me, it is one of the best ways to start an affiliate marketing business.
In the past, I have given ways to start affiliate marketing without a website, but even there I still recommend that you have one if possible. With a website, you're creating something that has a long-term value that will if done correctly, generate income for years to come.
However, most websites will cost you monthly, for the domain name and web hosting at the very least. But, if you wish to get your first affiliate website running completely free, you should do so with Wealthy Affiliate.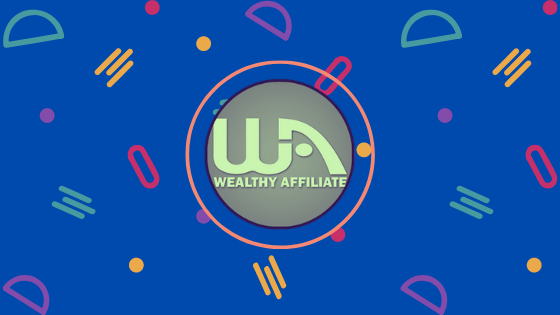 When I first got started with affiliate marketing, I fooled myself into believing you needed to spend money to get started. That simply isn't true and Wealthy Affiliate is an example of that. This affiliate marketing platform provides beginners with the training needed to learn affiliate marketing and they also provide the tools to build your first affiliate website for free.
By the time I discovered Wealthy Affiliate, I already owned my own website; but, had I discovered them earlier, I would have gotten set up with them first. Even if you don't want to take advantage of their hosting platform, you can use their free training course to better understand affiliate marketing.
Essentially, with this program, you are getting a business in a box and with a little effort on your part, it can become fully functional.
Final Thoughts
I truly mean it when I say affiliate marketing is perhaps the best way to make money online. It provides the flexibility and time that most people wish they had in their regular jobs.
No, it will not make you rich tomorrow but it will provide you with the opportunity to become financially free. Just remember, with any job or business, it takes time and patience.
I hope I have sold you on the idea of affiliate marketing. Like I said before, I wish someone would have introduced it to me years ago because there is no opportunity like it.
If you still aren't quite sure about affiliate marketing or simply need more information, do yourself a favor and check out Wealthy Affiliate. When it comes to making money online for free, they are the best option.
If you take what you've learned in this post and put it into action, you'll be happy you did. That I can promise.
You are more than capable of making money online, you just have to be willing to go after it.