Are you new to stock investing or an experienced investor who wants to improve their stock returns? Here are a few tips that should help.
Know yourself well.
Know your stocks well.
Know the stock market well.
I will include examples to illustrate the points.
Know Yourself Well as an Investor
Don't know what stocks to invest in? Seek stocks that suit you in terms of your temperament and risk tolerance. You might need to test the waters to find your group of stocks.
One way to do so is by investing in a virtual account so that you won't lose any real money if they turn south. If you can't raise your enthusiasm from that, consider investing tiny amounts to get a feel of stock investing.
If you're an aggressive investor and want high growth, consider growth stocks like Amazon (NASDAQ:AMZN), Alibaba (NYSE:BABA), and Tencent (TCEHY).
Conservative dividend stocks
If you're a conservative investor, think about sticking with proven businesses. Personally, I find it's easier to get started with dividend and value investing, which focuses on getting safe dividends and paying fair or better valuations for stocks.
One stock I bought earlier this month that falls in this category is TC Energy (TSX:TRP)(NYSE:TRP). It is a top 15 Canadian dividend growth stock with 19 consecutive years of dividend growth. Its 10-year dividend growth rate is 7%. TRP stock is already up close to 7% from when I bought it. However, it still offers a juicy yield of almost 5.4%, which is still attractive levels.
TC Energy operates a gas and liquids pipeline and power and storage portfolio. Buying the stock at discounted valuations (such as now!) has led to double-digit long-term returns. There's no reason that this time will be any different.
In the first quarter, TC Energy saw a 2% drop in revenue to CAD$3.4 billion. However, its comparable EBITDA and earnings per share both increased — by 6% and 10%, respectively. The company's underlying earnings strength allowed it to increase its dividend by 8% year over year.
Its business should remain relatively resilient to COVID-19 disruptions, but it'd be wise to observe its earnings results for the remainder of 2020. Look out for its Q2 earnings that will come out in early August.
Next year, it plans to hike its payout by 8-10%, and thereafter, by 5-7%. That would imply long-term returns of about 11%, excluding any valuation expansion, which I think will occur. I more normalized P/E of ~17.5 for this high yield stock would represent a fair price of ~CAD$72 per share, which is 19% upside potential from current levels.
Of course, there's nothing stopping you from investing in blue-chip dividend stocks and growth stocks. Depending on your style, you can allocate more of your capital to one type or the other.
Know Your Stocks Well
What's the animal that best describes your stock?
Is it a sloth that doesn't move much? That'd be Fortis (TSX:FTS)(NYSE:FTS) that had a recent beta of 0.05 according to Yahoo Finance. Despite the low beta though, there's still volatility in the stock. In the market crash earlier this year, the "stable" stock fell as much as +27%, though, it rebounded in 3 weeks.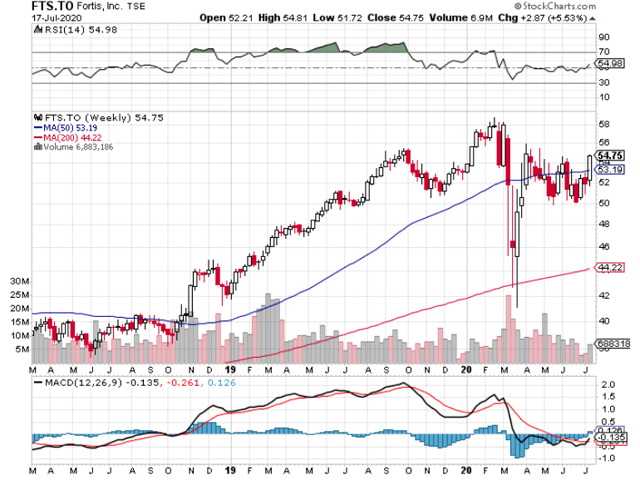 No matter how stable or safe a business may be, its stock will still be volatile. That's just the nature of stocks. And investors need to understand and digest that.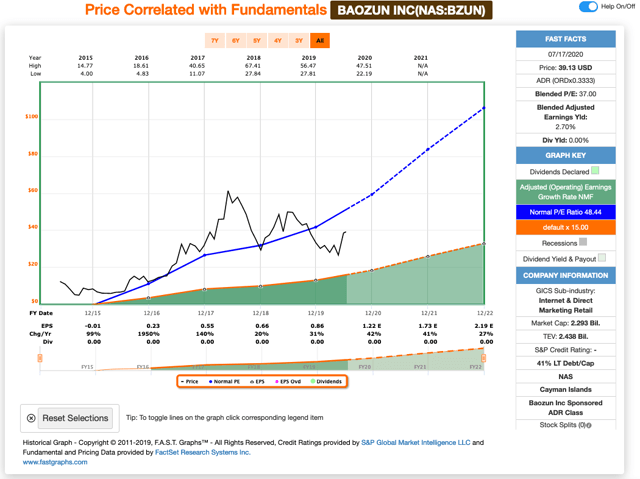 I visualize Baozun (NASDAQ:BZUN), which is often dubbed the Chinese Shopify (TSX:SHOP)(NYSE:SHOP) as a snake. Supposedly, it's a high growth stock. However, the investment community loves trading in and out of it. (Personally, I've traded in and out of it a few times.)
So, the sneaky snake can quickly turn and bite you. From its mid-2019 high, the stock declined close to 60% down to the March market crash low! Yahoo Finance indicates BZUN's recent beta is 2.10 — so more than twice as volatile as the market.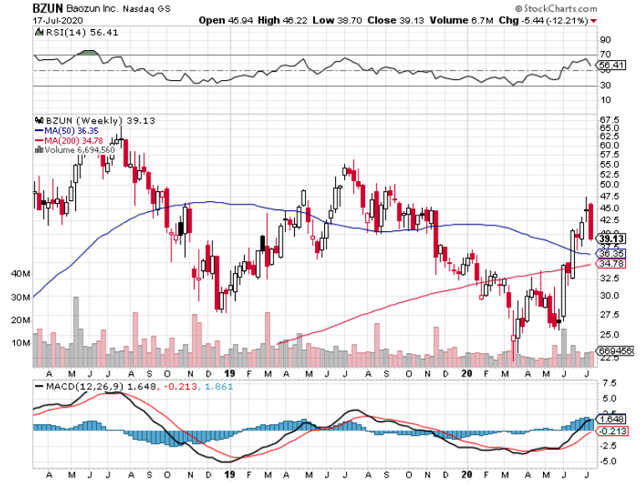 Source: Stockcharts – BZUN stock is highly volatile.
There are value stocks, growth stocks, cyclical stocks, speculative stocks, etc. Categorizing the stocks before you buy them will give you an idea of how it might behave. This should in turn allow you to gauge whether they're good for short-term or long-term investment.
Typically, short-term investments can be stocks you intend to sell within a year. Long-term investments can be investments that you plan to hold for years or even forever. The longer your investment horizon, the more time you give your investment thesis to play out.
For example, because of Fortis's safety as a business, it can be a hold forever stock as long as you only care about the safe dividend. However, I'd trade in and out of BZUN because of its highly volatile nature and the fact that you can only make money from it through price appreciation.
However, there are other growth stocks that investors might wish to buy at a good valuation and intend not to sell — because buying them back would be difficult. I'd put Amazon, Tencent, and Alibaba in this category.
Know why you're buying a stock — for income, long-term growth, or short-term trading. For trading, set buy and sell points and update them as necessary.
Know the Stock Market Well
Even if a great business is earning great profits and has good growth potential, it doesn't mean that the stock market will appreciate it. A prime example of this is Bristol-Myers Squibb (NYSE:BMY).
The wide-moat stock is one of the best healthcare stock ideas out there today. At about $60 per share, it trades at a blended P/E of about 11, while it's estimated to grow its earnings per share by 10-22% per year over the next 3-5 years.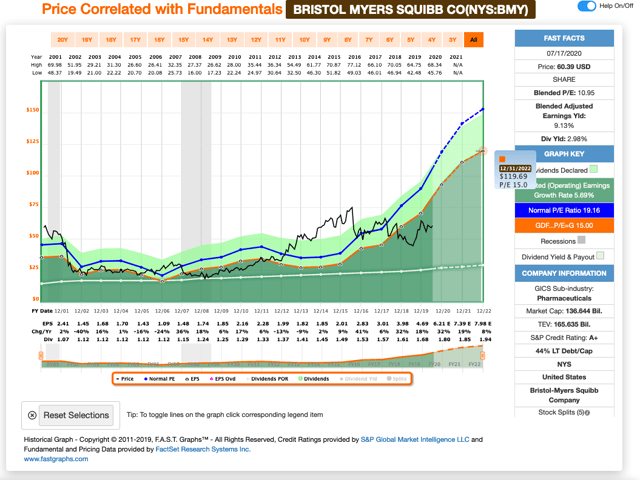 Source: F.A.S.T. Graphs – BMY appears to be undervalued and has high growth potential
Investors can't determine when BMY's price will go up but can buy it when it's cheap (now) and hold on to it until the market comes to its senses and bids it up. BMY awards investors' patience with a secure dividend that yields close to 3%, which is more income than CDs and GICs!
In the short term, stock prices are moved by news and emotion. In the long term, they follow the fundamentals. If a company is making more and more money over time, a decent-valued stock should head higher, not to mention that BMY is actually discounted currently.
If you like what you've just read, consider subscribing via the "Subscribe Here" form at the top right so that you will receive an email notification when I publish a new article.
Disclosure: As of writing, we own shares of AMZN, BABA, BMY, TCEHY, and TSX:TRP.
Disclaimer: I am not a certified financial advisor. This article is for educational purposes, so consult a financial advisor and or tax professional if necessary before making any investment decisions.
Get Exclusive Articles from me on Seeking Alpha
Access my portfolio of high-quality U.S. and Canadian dividend stocks.
Real-time updates of when I buy or sell from this portfolio.
Get best ideas of the top 3 dividend stocks from my watchlist. Updated each month.